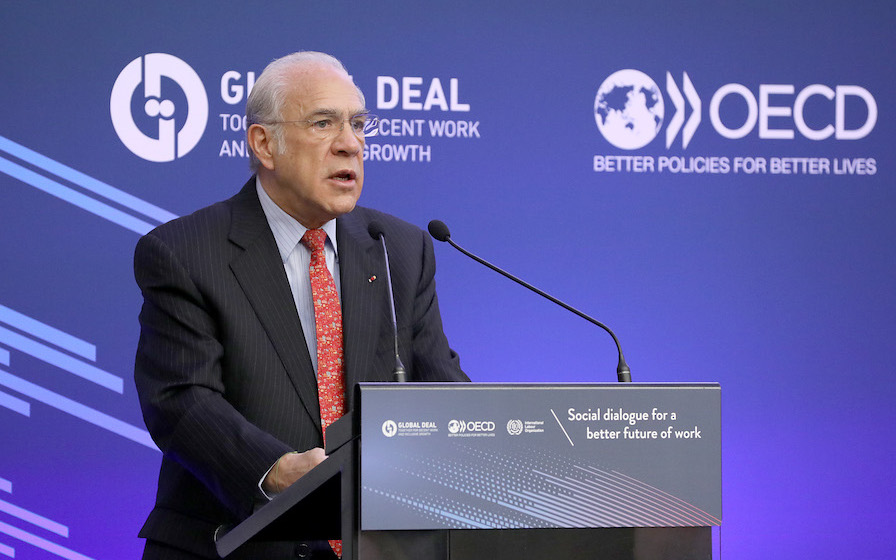 By Dr. Martha Theodorou
You were appointed Secretary-General of the Organisation for Economic Co-operation and Development (OECD) in 2006, and now you are serving your third five-year mandate. Which do you consider your most important contributions to this Organisation during your terms?
I have led the OECD since 2006 flanked by an extremely professional team. Since the beginning of my first mandate, my top priority has been to strengthen the OECD's reach, impact and relevance globally. After all, the world has repeatedly shown us that global challenges require global solutions. During this time, we have witnessed the transformation of the OECD from a think-tank into a do-tank, firmly establishing itself, not only as a pillar of the global economic governance architecture, but also as the Organisation that helps countries design, develop and deliver "Better Policies for Better Lives."
Among the OECD's many achievements of recent years, some of the most notable ones include its enlargement – we have welcomed new members Chile, Estonia, Israel, Latvia, Slovenia, Lithuania, Colombia and soon Costa Rica. We have also developed a programme for enhanced engagement with Key Partners (Brazil, China, India, Indonesia and South Africa), a series of Regional Programmes with key regions and a dynamic co-operation with 100 non-member countries. Six countries are waiting for Members' decision to start their accession process (Argentina, Brazil, Bulgaria, Croatia, Peru and Romania).
We have also focused on gaining valuable insights from the global financial crisis. This has led to a 'renovation' of our economic thinking, through our New Approaches to Economic Challenges (NAEC) initiative. Since 2012, NAEC has catalysed an effort to improve our analytical frameworks and policy advice. We also launched our Inclusive Growth Initiative, which has promoted a new growth narrative that goes beyond GDP, focusing on inclusion and people's well-being. Taking this work forward, more recently, we launched our Centre on Well-Being, Inclusion, Sustainability and Equal Opportunity (WISE) aiming to consolidate the OECD's position as the leading international organisation on well-being and inclusive growth. 
And of course we have positioned the OECD as one of the most active international organisations which participate, provide analysis and insights to the G20 and the G7, APEC, ASEAN, and the Pacific Alliance.
The OECD delivers know-how that Member countries, and a range of partners, can utilise to make policy decisions. How can you ensure that the Organisation helps to shape better policies?
For sixty years, OECD standards have been reflecting the consensus of OECD Members around evidence-based best practices and becoming international reference points for policymaking. With almost 250 legal instruments currently in force, we provide cutting-edge policy advice in a variety of areas, such as investment, tax, environment, and the digital economy.
One of the OECD's unique strengths in standard-setting is its coverage of a vast array of policy areas as well as its convening power with different sets of stakeholders. This feature is key to developing comprehensive, credible policies that can address transversal issues.
The policy landscape, however, constantly evolves, and new challenges emerge. To ensure that the Organisation's policies and good practices – as embodied in its legal instruments – keep up with these developments and continue to respond to them, in 2016 I launched a Standard-Setting Review. The Review covers all of the OECD's legal instruments and sets out actions to strengthen their impact and relevance. So far, the Review has resulted in the abrogation of 60 obsolete legal instruments, the development of 39 new legal instruments, and the revision of 12 existing ones.
The OECD's goal is to shape policies that will foster prosperity, equality, opportunity and well-being for all. How will the ongoing global COVID-19 pandemic affect your agenda?
The COVID-19 pandemic has led to a public health, economic and social crisis with no parallel in living memory. It will have serious consequences on individual and societal well-being both now and in the future.
Going forward, it will remain a priority to keep the virus in check while continuing to support people and businesses. Focusing on jobs, one challenge will be to transform governments' support during the crisis into structural changes to rebuild more inclusive and resilient labour markets. Regarding health systems, countries should consider resilience, as an equally important dimension of health, alongside accessibility, quality of care and efficiency. This will require, among other responses, increasing the adaptability of health systems to respond to surges in demand and strengthening primary health care to maintain continuity of care during crises.
Last but not least, the multi-dimensional nature of the pandemic highlights the importance of better data and analysis to help governments invest in the areas with the largest social returns, and to link short-term responses to longer-term challenges such as climate change and the fight against inequalities.
At this point I would like to mention that as part of our COVID-19 response, we have launched a Digital Hub on Tackling the Coronavirus with now close to 160 policy briefs in virtually all areas of our policy work. We have also provided policy advice to global fora such as the G20; we have kept open lines of communication with other multilateral organisations to ensure a co-ordinated and coherent response; and we have also organised three virtual Ministerial Council Roundtables in the lead up to the MCM, as well as targeted COVID-19 Ministerial briefings for a number of our Member countries.
You mentioned the OECD Ministerial Council. Following its annual Meeting, which actions are considered necessary for a strong, resilient, green and inclusive recovery?
The theme of the 2020 OECD Ministerial Council Meeting was "The Path to Recovery: Strong, Resilient Green And Inclusive". Ministers recognised the work that the OECD is carrying out to support governments during these challenging times.
During the MCM, Ministers called on the OECD to take forward its work on jobs and youth as important priorities for the recovery. They also supported the development of an OECD indicator dashboard going beyond GDP and integrating key dimensions of inclusiveness, sustainability and well-being, building on existing frameworks and indicators.
Of course while we focus on the economic and social recovery we must not forget the urgency of climate change. In this respect, Ministers re-asserted their resolve to advance towards circular, resource-efficient, sustainable materials management and safe and sustainable carbon-neutral economies. The OECD will continue to support efforts for a green recovery by encouraging governments to step-up their green efforts; speed-up the transition to a low-emissions economy; leverage 'green' finance; and, track progress through pertinent, comparable and timely data. Our single most important, intergenerational responsibility is to protect the planet.
Which has been the Organisation's main contribution to the United Nations 2030 Agenda and to the Sustainable Development Goals?
Since the UN Sustainable Development Summit in September 2015, the OECD has collaborated closely with agencies from the UN system and beyond, acting in the spirit of "best supporting actor". In the context of the OECD Action on SDGs, we have also helped our members to adopt and adapt the SDGs and its 169 targets.
The OECD's Multi-Dimensional Country Reviews (MDCRs) continue to be used by countries as a starting point for the analysis of policies and development of national strategies in support of the SDGs. We have also been a central figure in measuring and mobilising international development finance and in promoting its role in achieving the SDGs.
Moreover, the OECD Development Centre develops policy dialogue initiatives in support of efforts towards the SDGs, while through its Development Communication Network (DevCom), it raises awareness about the SDGs and helps to mobilise citizens for sustainable development.
Last but not least, our report on Measuring Distance to the SDG targets, whose third edition was published in May 2019, assists countries in implementing the 2030 agenda and in setting their own priorities among its goals and targets. We are currently working on the next edition of this study which will focus on the pace of member countries' progress towards the SDGs, and how the COVID-crisis is impacting countries' initiatives.
You pointed out earlier that "Our single most important, intergenerational responsibility is to protect the planet". Delivering a Green Recovery is vital for tackling the urgent and interconnected challenges of climate change and biodiversity loss. During the COVID-19 crisis, however, a number of governments are using the post-COVID measures to roll back existing regulations and taxes for the environment's protection. What is the OECD's position on this issue?
As the focus starts to shift from cushioning the impact of the COVID-19 crisis to laying the groundwork for a strong and sustainable recovery, it is imperative that we reflect on how recovery and stimulus measures will enhance - and not adversely affect - environmental sustainability and well-being.
According to our preliminary analysis, the balance between green and non-green spending as announced by governments is overall not encouraging. A number of countries are directing funding towards measures that are likely to have a direct or indirect negative impact on the environment.
The current crisis presents governments with a number of opportunities to drive a successful green recovery:
First, the recovery is an opportunity to "build back better", i.e. to undertake a fundamental restructuring of key sectors in order to support the transition to low-emission economies. This calls for accelerated efforts and greater investment in renewable energy and in resource efficiency.
Second, "green" sectors and activities offer significant prospects for job creation and new businesses. For example, renewable energy, notably solar PV, employs more people per unit of investment and energy than fossil fuel generation.
And third, the pandemic has underscored the importance of environmental health and resilience as a critical complement to public health. A green recovery has the potential to achieve better air quality, improved water quality, effective waste management, and enhanced biodiversity protection. This will not only reduce the vulnerability of communities to pandemics, but will also improve overall societal well-being and resilience.
More generally, the green recovery needs to be socially inclusive and address the implications for segments of the populations and regions most affected by the necessary transformations. Carbon pricing tools are a critical component of a low carbon recovery. In this respect, tax policy can and should play a more important role in levelling the playing field for clean technologies.
How does the participation of Greece in the OECD contribute to the organization's goals?
As a founding member of the OECD, Greece has always been an integral part of the Organisation's history and development. Greece engages in a rich and open policy dialogue with other OECD members via the OECD Secretariat and the various Committees. This dialogue enables Greece to share its experiences and strategies to address policy challenges, providing examples of good practices that other countries can draw on. Greece also participates in Committees reviewing other countries' policies, and developing international norms for many dimensions of policy actions.
In more recent years, and particularly during the global financial crisis, Greece has been a very active Member, seeking the OECD's advice and support, as well as providing valuable lessons learned. During this time we worked actively with successive Greek governments to address the challenges of the crisis. More specifically, we carried out projects in areas which we consider essential for achieving inclusive and sustainable growth in Greece, such as education, anti-corruption and competition.
How does organised civil society support the OECD mission in its Member countries?
Engagement with civil society organisations (CSOs) remains paramount for the OECD. CSOs provide a channel for the expression of many and varied voices, including those of people who are marginalised. They advocate for and help enable people to claim their rights; help shape and oversee policies; and act as a watchdog towards governments and businesses.
In our efforts to engage with and support CSOs, in 2018, the OECD Development Assistance Committee (DAC) committed to developing a policy instrument on enabling civil society. Our engagement with civil society was formalised through the 2018 Framework for Dialogue between the DAC and CSOs. The Framework has helped the OECD DAC and the OECD's Development Co-operation Directorate (DCD) to make engagement with CSOs more systematic through mechanisms such as the annual DAC-CSO dialogue, biennial DAC Civil Society Week, periodic technical webinars and other mechanisms.
Through these inclusive efforts, we are able to leverage CSO knowledge, their capabilities as well as their role as advocates for fighting poverty and promoting gender equality, inclusion and sustainable development.
In the framework of the current challenging economic juncture, which are the tasks that the OECD will be facing in the future?
During our Ministerial Council Meeting, I presented my 2020 Strategic Orientations, which focus on providing strategic direction for the year ahead. Three overarching priorities that the OECD will be focusing on are: integrating growth with inclusiveness, resilience and sustainability goals; helping governments build a strong social contract with current and future generations; and, urgently addressing the long‑term crises around the corner: climate change, biodiversity loss, and environmental degradation.
In helping us achieve these goals, the OECD will continue to be guided by seven pillars which have shaped our work and the organisation's character in recent years. These are:
Putting people at the centre to ensure a strong, resilient inclusive and sustainable recovery;
Leveraging further our efforts to level the global playing field and promoting a rules-based international economy;
Supporting domestic reform agendas;
Reinforcing innovative analytical approaches, multidisciplinarity, and cutting-edge thinking;
Seeking high-level guidance and serving as a platform to forge consensus on global challenges;
Enhancing our global reach, in close consultation with Members, ensuring that our work with Partner countries advances the Organisation's goals;
Engaging with different stakeholders and adapting our communications approaches and tools to the changing global context.